submitted by FXB Denver member, Deb Mountain
I joined FXB at a point in time where I was just about to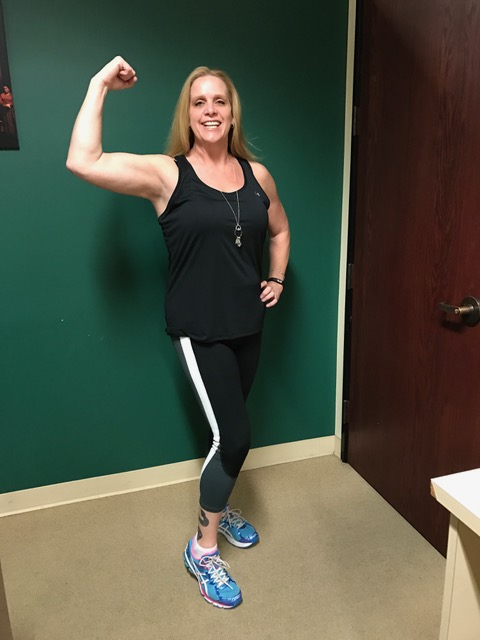 give up on myself. I gained all the weight back aga
in (for the 100th time at least). I was
winded going up long flights of stairs, and I had moved back into my "fat" wardrobe. Every day on the way home from work I drove by a sign that said "Farrell's eXtreme Bodyshaping." I looked at that sign every day for a year before I decided to check out the website. Hmmm, kickboxing…that's something I haven't tried. Wait, it comes with nutrition support and a personal coach? I am quickly getting close to 50 years old, and continuing on the same path would surely lead me to a sedentary existence in my "golden" years. I decided I had to give it a shot.
I started this kickboxing and strength training program with painful shoulders and knees and having never done a real pushup in my life. My back hurt frequently and I had constant heartburn. As I mentioned, too many stairs took my breath away, and there was certainly no hope of being any level of athlete. As of today, the majority of my aches and pains are gone, and I can do 35 pushups, on my toes, without stopping. Crazy! I feel incredibly strong, and I know I am capable of taking on any physical challenge.
My relationship with my body has always been focused on the scale. For the first time in my 46 years of life, I don't care what the scale says. This program taught me about muscle mass and hydration. It taught me that starving to achieve a certain number is useless. It taught me that being strong and fit is very different, and much more valuable than being "skinny." Have I lost weight? Sure, but I now see that as just a side effect of the power I have gained.
FXB has brought some incredible "firsts" in my life. My first kickboxing class, my first burpee, my first real pushup, the first time I made my big brother feel scared of my strength, but the most memorable would be climbing my first 14er. When you go from dreading the day the elevator at work is out of order because of the five flights of stairs to get to your office, to standing on the summit of a 14,265 ft mountain, you can't help but feel proud. I am proud, and thankful for the people who helped me achieve that success.
FXB is not some gym you go to anonymously to break a sweat every now and then. FXB is a fitness program where the community of people know you by name and support you in your fitness journey. Notice I didn't say weight loss journey, it's about being the strongest, healthiest person you can be. The people there, from the instructors and coaches to the other members are wonderful. You feel the care and concern from everyone the minute you walk in the door. It doesn't matter what shape you're in, there is no judgement, only support. To quote several of the best instructors around, "You are stronger than you think you are!"

In the few months that Deb has been a member, in addition to gaining her strength and confidence, she has lost 15 inches, 9 of which are off her waist, and lost 25 lbs

*

.

Are you ready to transform your body? At Farrell's eXtreme Bodyshaping, you will join the premier Denver boot camp. Our 10-week fitness challenge has something for everyone, making our fitness classes a fun way to get in shape and make long-lasting changes to your nutrition and lifestyle. Broken down into four components: kickboxing classes, strength training, nutrition assistance and accountability, our fitness program will help transform your body and change the way you think about fitness and nutrition.

Contact us or enroll today for the most effective fitness challenge in Colorado.



* Disclaimer: The above testimonial and photos were contributed by an actual member. We cannot guarantee everyone will achieve similar results. We do believe that everyone can achieve measurable results, but the specific results will vary from person to person.