Jan Maruyama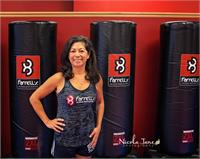 I have been a member at FXB since March 2012. When I began my 10 week challenge, I had been working out at home with a myriad of home workouts. I thought I was working out at "Level 10", but what I realized after joining FXB, was that I didn't have any one around to hold me accountable or to push me "to do just one more" or "hit a little harder" and to "have fun" while working out. Each of you gives me the motivation to keep coming and to continue to work hard, not only as a FIT member of 4 1/2 years, but also as an instructor for 1 1/2 and coach. Trust me….there are mornings where I think about not getting out of bed, but FXB is my "coffee".
I never considered instructing until a few other instructors asked and so in June of 2015, I once again stepped outside of my "comfort zone'. I love working with the other instructors and the FXB community in and outside the gym is also what I enjoy on a daily basis and am glad to be a part of. I love seeing the expression of pride on someone's face when they've set a goal, no matter how big or small and then they have achieved it.
Jan Maruyama is currently not instructing any classes.